Troubadour Booking Information
Welcome to the Folk Project! We are in the process of revising our booking procedures. We have new leadership and we now have an artistic committee that is responsible for choosing performers.
We are thrilled to discover new artists. If you aspire to be featured as a headliner or opening act, please reach out to us by sending your requests via email to Troubadour@folkproject.org
Please make sure that your submission includes all contact information and provides a good representation of your live performance. Please include links to your web pages, and any official social media.
If you have upcoming shows in our area, please inform us in advance. Additionally, consider attending our monthly Open Stage events.
Feel free to get in touch with us if you have questions or suggestions. We look forward to hearing from you and exploring the possibility of showcasing your talent at the Folk Project!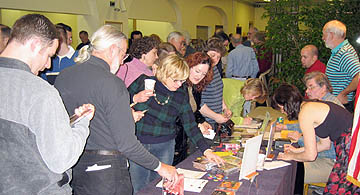 CDs sell well at The Troubadour