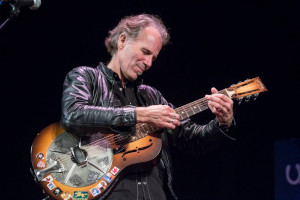 Brooks Williams is a mean finger-picker and a stunning slide guitarist, with vocal style that is meaningful and heart-piercing. His performance lives at the crossroads of blues and American roots. Just when you think he can't sing a blues-ier note, he sings it. Just when you think he can't strum a deeper groove, he strums it. He's ranked in the Top 100 Acoustic Guitarists in America. While no slouch as a songwriter, he's got an impeccable ear for a good cover and a massive repertoire that spans classic roots and blues.
Brooks is a touring headliner, performing hundreds of gigs yearly throughout Europe, North America, Australia, and the UK each year. He was nominated for Best Male Vocalist by Spiral Earth, one of the UK's most respected roots music publications. He regularly collaborates with an impressive list of fellow musicians, including Guy Davis, Paul Jones, Chris Smither, Rory Block, Shawn Colvin, Maria Muldaur, David Bromberg and Leo Kottke. He has played all the major stages, including The Newport Folk Festival, The Kerrville Folk Festival, The Guthrie Center in Massachusetts, and The Liverpool Philharmonic Hall in England.
It is with great pride that we introduce the amazing Brooks Williams to our Stony Point home away from home.