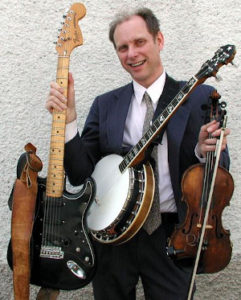 Multi-faceted and talented David Rimelis is our Getaway artist-in-residence. He contributes to our weekend in many ways, but is especially beloved for leading our Kitchen Sink Ensemble, the catchall orchestra workshop for musicians on all instruments at all levels.
As a guitarist and violinist, Dave has toured the United States, South America, Canada, Mexico, Europe, and the Middle East. He has been featured artist with the Colorado Symphony, Eugene Oregon Symphony, Waco Texas Symphony, the New Jersey Pops, and many others.
Dave's music has been featured in featured films, on network television, on PBS, and in cartoons. His works have been performed by orchestras everywhere, including the Boston Pops, National Symphony, Royal Liverpool Philharmonic, and many other symphonies across the United States and the world. He is artist-in-residence for the New Jersey State Council on The Arts and teaching artist for the New Jersey Performing Arts Center.
Dave is a multi-talented musician and longtime supporter of the Folk Project and its members' music. It's a great pleasure to have him back on the Team Getaway.