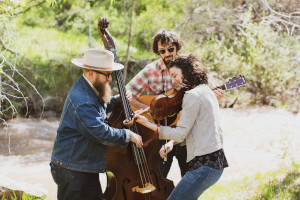 Born in a distillery in Durango, Colorado, The Stillhouse Junkies play a deliriously head-spinning mixture of original roots, blues, funk, swing, and bluegrass music. With all three band members sharing lead vocals, harmonies, and swapping instruments, The Junkies conjure up a wide range of tonal landscapes that pay tribute to an expansive variety of iconic American musical traditions, while breaking new ground with their genre-bending original material.
Alissa Wolf is a classically- and traditionally-trained fiddler, who began exploring bluegrass, swing, and jazz, while following her true passion, improvisation. Cody Tinnin from Durango, Texas had an early ear for playing jazz on bass, but gained an affinity for traditional American music and then a passion for outlaw country music and bluegrass. Fred Kosak is a seasoned guitarist and mandolinist, who began his professional career in funk cover bands and then found success in the "roots world" with a major presence at festivals and storied venues while playing with Creek River String Band, Greg Lizst of Crooked Still, Three Tall Pines, Acousticana, Ethan Robbins of Cold Chocolate, and The Professors of Bluegrass from Yale University.
Getaway is built on love, sweat, teamwork, and the occasional lucky break – like when a West Coast super group and party band comes East to join us. Be ready for too much fun – The Stillhouse Junkies are coming to The Folk Project.