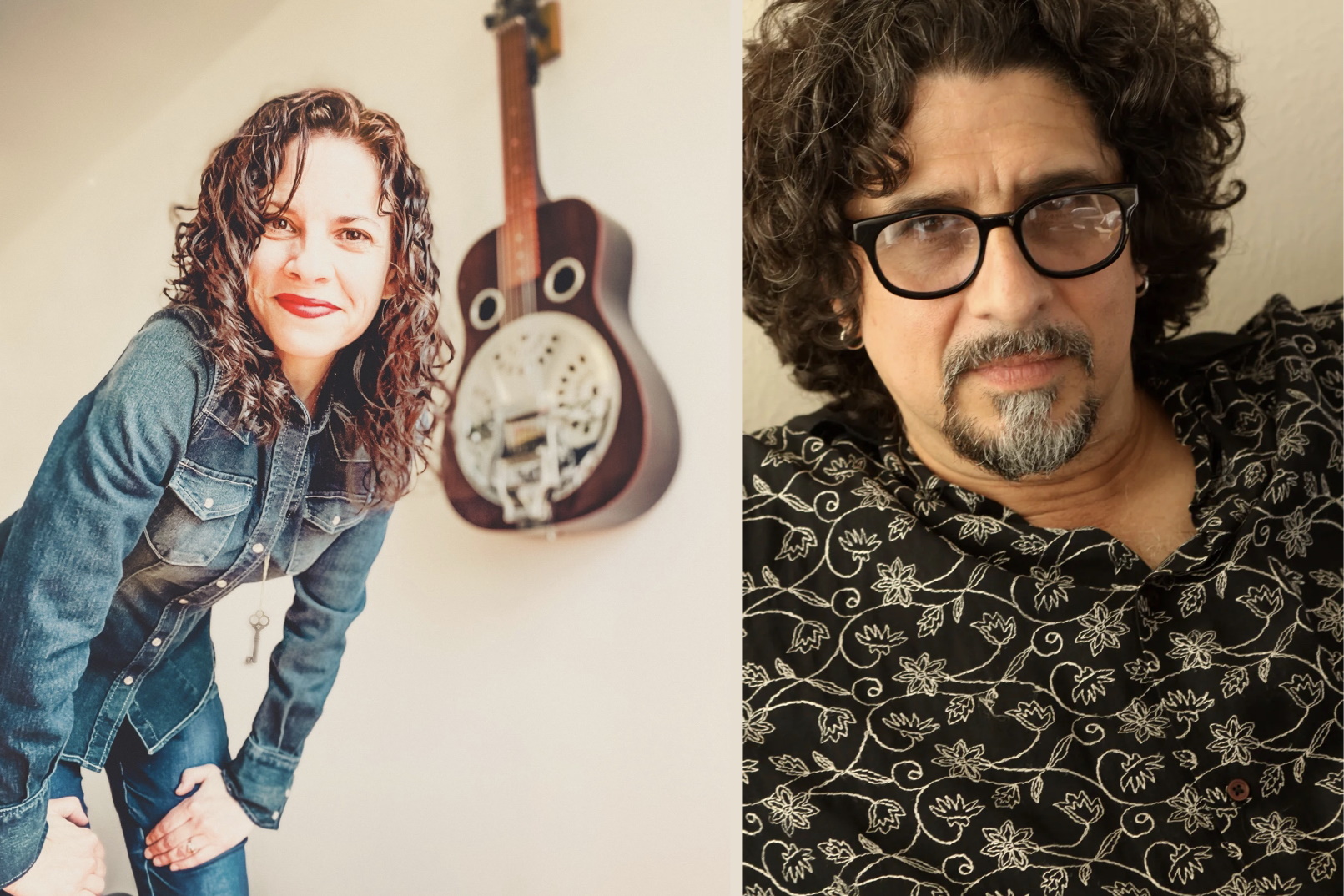 Getaway Songwriters Day and Concert (or Concert only)
Acoustic Getaway presents
Getaway Songwriters Day and Concert (or Concert only)
The Folk Project Getaway Songwriters Day and Concert featuring Dan Navarro and Abbie Gardner

Concert-only tickets ARE still available at the door even though the ticketing option shows 0 available.  That only refers to tickets purchased online.
Saturday, April 15th, 2023 from 10 am until 10:30 pm
Location: The Morristown Unitarian Fellowship,
21 Normandy Heights Rd., Morristown NJ
Full Event $85 ($75 for Folk Project Members)
includes workshops, lunch, dinner and concert.
Evening Concert only (7:30 PM start) $25 for all
The Folk Project's Getaway Songwriters Day and Concert featuring Dan Navarro and Abbie Gardner will be held on Saturday, April 15th, 2023 from 10 am until 10:30 pm. It is a full day of workshops devoting to songwriting excellence, followed by an evening concert featuring Dan and Abbie, and special guest openers. Concert-only tickets will also be available.
Songwriters Day starts with a full day workshops from two accomplished and nationally renowned songwriters, followed by song circles to showcase attendees' original songs where two of them will be chosen to open the evening concert. Lunch and dinner is included. The entire day, two meals, the showcase and the concert costs a very reasonable $85, and $75 for Folk Project members.
The evening concert featuring Dan Navarro and Abbie Gardner, plus opening songs by two group-chosen attendees and host Tina Ross is open to the general public and costs $25.
WORKSHOP LEADERS / PERFORMERS:
Dan Navarro (https://dannavarro.com/) has had an eclectic 40+ year career as a songwriter, recording and touring artist, session singer and voice actor, spread over 17 acclaimed albums, thousands of concerts, singing and voice acting in films like Oscar-winners Coco and Happy Feet, The Book of Life and Pirates of the Caribbean 5, Encanto, Puss In Boots, and Father of the Bride, TV series American Dad, Prison Break and Mr. Iglesias, hit games Fallout 4 and Red Dead Redemption II, hundreds of commercials in Spanish and English, and writing songs for Pat Benatar (the Grammy-nominated classic We Belong), The Bangles, Dave Edmunds and more. In early 2019, after 20+ years with Lowen & Navarro, he released his first studio-recorded solo album, Shed My Skin, to rave reviews.
Dan's songs are rich with insight and life experience, delivered straight-up, with honesty, grace and heart, in his moving and expressive baritone voice. Having released a dozen albums (solo and as Lowen&Navarro,) Dan released his first solo album "Shed My Skin" in 2019.  Horizon Line, his new album, was produced by multiple Grammy®-winner Jim Scott (Tom Petty, Wilco, Dixie Chicks, as well as the first five Lowen&Navarro albums) in a dozen sessions in mid-2021 and a dozen more in spring 2022.
He's the personification of the engaged Renaissance artist, even in COVID lockdown, with over 200 housebound live streams since March. Dan insists that art is food, music is love, and sleep is for babies.
Abbie Gardner (https://www.abbiegardner.com/) is a fiery dobro player with an infectious smile. Whether performing solo or with Americana darlings Red Molly, her acclaimed tales of love and loss, both gritty and sweet, are propelled by her impeccable slide guitar chops. Her live show is truly unique – as an award-winning songwriter, captivating vocalist, and a world-class lap style dobro player, she has an unmistakable sound all her own. This sound of vocals and dobro unaccompanied is masterfully captured on her 2022 CD DobroSinger. The record made it to #11 on the Billboard Blues Charts and #2 on the Folk DJ Charts. It's a raw intimate recording full of blues, heartfelt ballads and the ache of the unknown. It's quite a contrast to her previous CD, Wishes on a Neon Sign (2018) which featured a co-write with Chris Stapleton and leaned on full band production.Though she has traveled around the world with Red Molly, Abbie stands strong as a solo act and has opened for Lori McKenna, Hot Rize, and Martina McBride. WFUV personality John Platt says Abbie is "a songwriter to be reckoned with."
Getaway Songwriters Day and Concert (or Concert only)