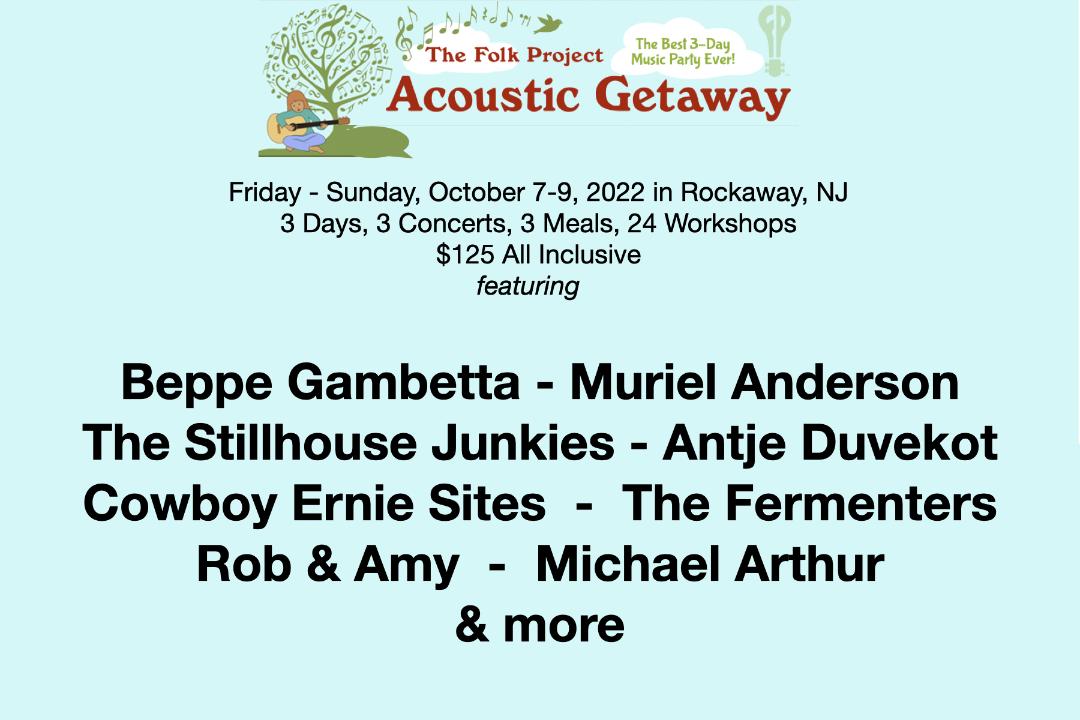 Acoustic Getaway Home Edition (Fall 2022)
Acoustic Getaway presents
Acoustic Getaway Home Edition
The Folk Project Acoustic Getaway – Home Edition
Friday-Sunday, October 7-9, 2022 in Rockaway, NJ – address, directions and parking details provided after ticketing. This is a commuters only weekend – we cannot provide lodging at the site of the events.  The closest hotels are off exit 34 (Rockaway Mall) of Route 80 and are less than a ten minute drive.

Three Days – Three Concerts – 24 Workshops – Six Featured Artists – Three Meals – Infinite Fun & Music
Price: $125
A full three-day program of concerts, workshops, participation and making music
The Fall Acoustic Getaway – Home Edition continues our beloved Folk Project tradition: A weekend community of friendships and music filled with great concerts, marvelous musical workshops, and a multiple chances to jam, sing along and perform.
The "Home Edition" is the Folk Project's joyous and defiant response to the new COVID realities. It's a commuter weekend limited to 50 members that maintains many of our beloved Getaway traditions, including great workshops and a spectacular lineup of touring professionals – a hallmark of Getaways past.
Everyone must show proof of full vaccination to attend. Workshops and meals will be outdoors, where masks are optional. Concerts are indoors, where N95 or equivalent masks are recommended, but may be required except while performing on stage if Morris County is once again in the High (Red) state. Safety guidelines are easing generally, but one never knows.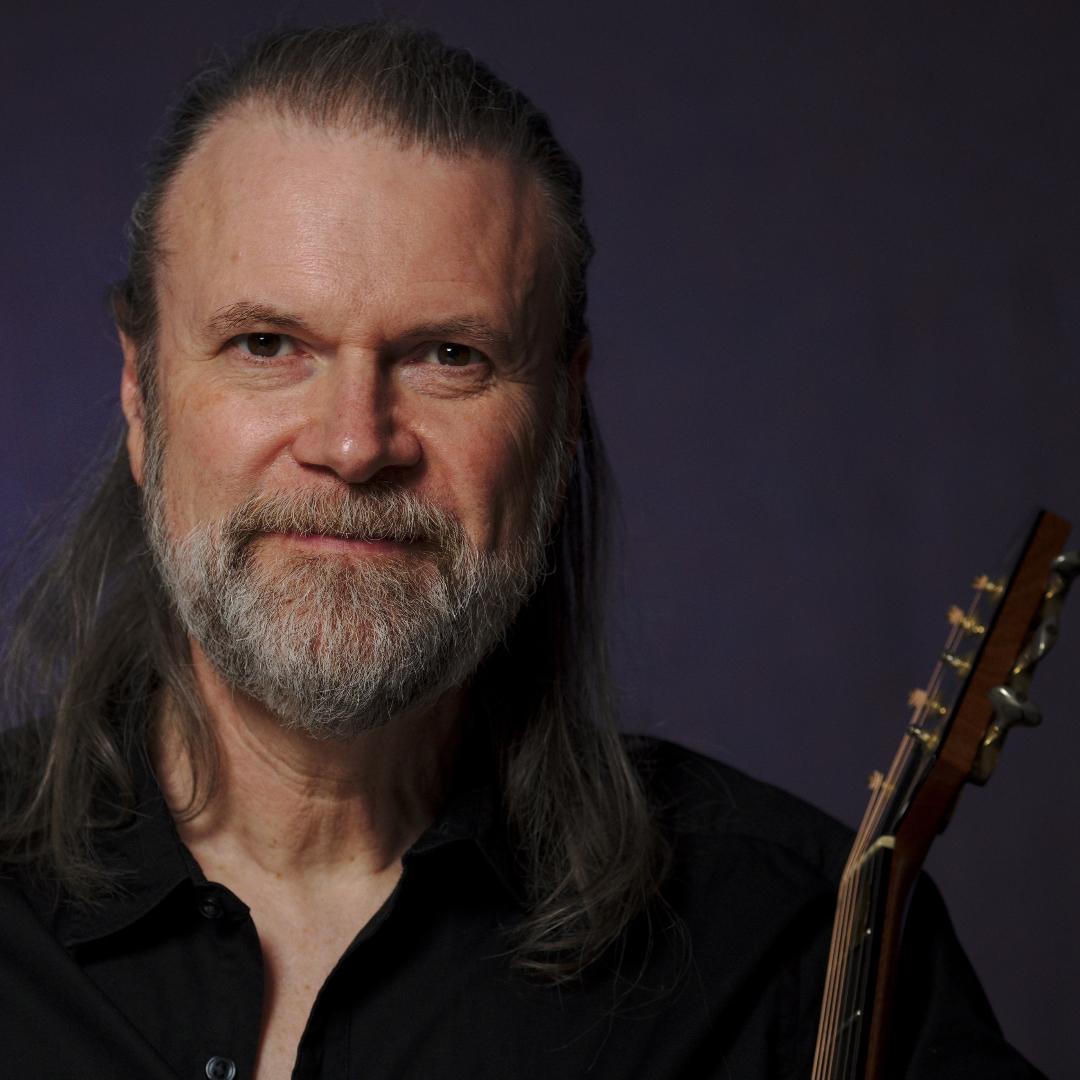 Beppe Gambetta is a sensational guitarist, composer and performer who combines an historic career in bluegrass with the traditional music of his native Italy. He is a featured performer at festivals across America and around the world. He has recorded with such luminaries as Dan Crary, Norman Blake, Mike Marshall, Tony Trischka, and so many more.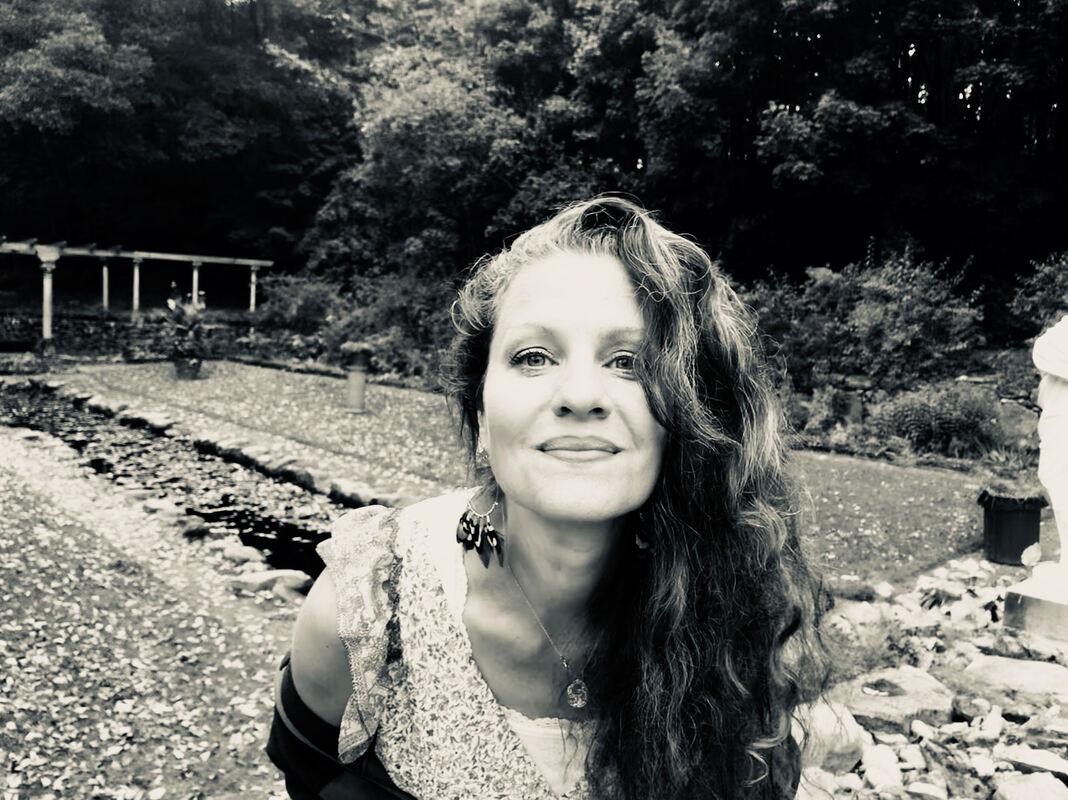 Antje Duvekot has extensive touring experience, criss-crossing the US and Europe many times. She is a compelling live performer and has been invited to play some of the top festivals including The Newport Folk Festival as well as the Mountain Stage, Philadelphia and Kerrville Festivals. Internationally, she's headlined the The Celtic Connections Festival in Scotland and the Tonder Festival in Denmark. She's the winner of some of the top songwriting awards, including the Grand Prize in the John Lennon Songwriting Competition, the prestigious, Kerrville (TX) "Best New Folk Award" and, in one of the nation's top music markets, the Boston Music Award for "Outstanding Folk Act", three of the top prizes in the singer songwriter world.
_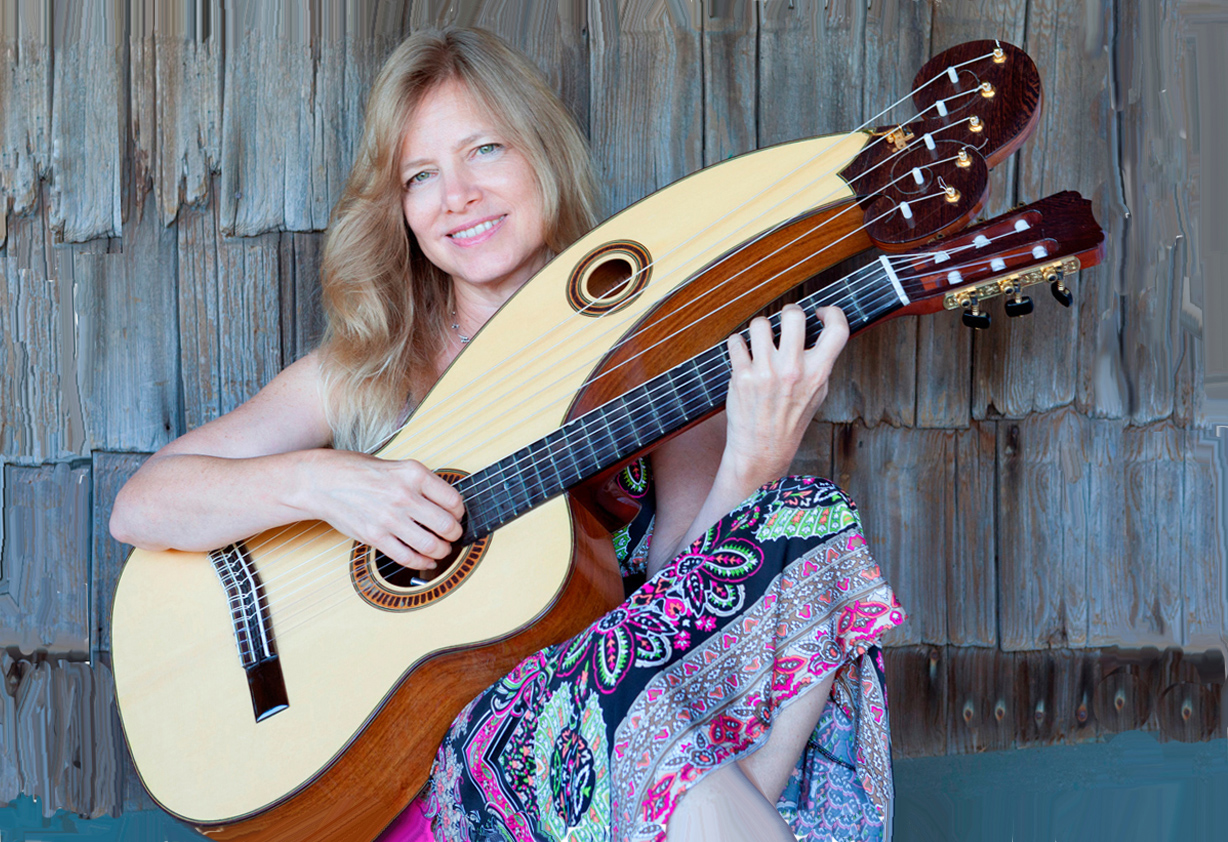 Muriel Anderson
 is a giant in the world of guitar, harp guitar, and composition, the first woman to win the National Fingerstyle Guitar Championship, and a master who has recorded and performed with such luminaries as Chet Atkins, Les Paul, Victor Wooten, and Tommy Emmanuel. Muriel Anderson embraces music from all over the world with a sense of grace, joy, and gentle humor.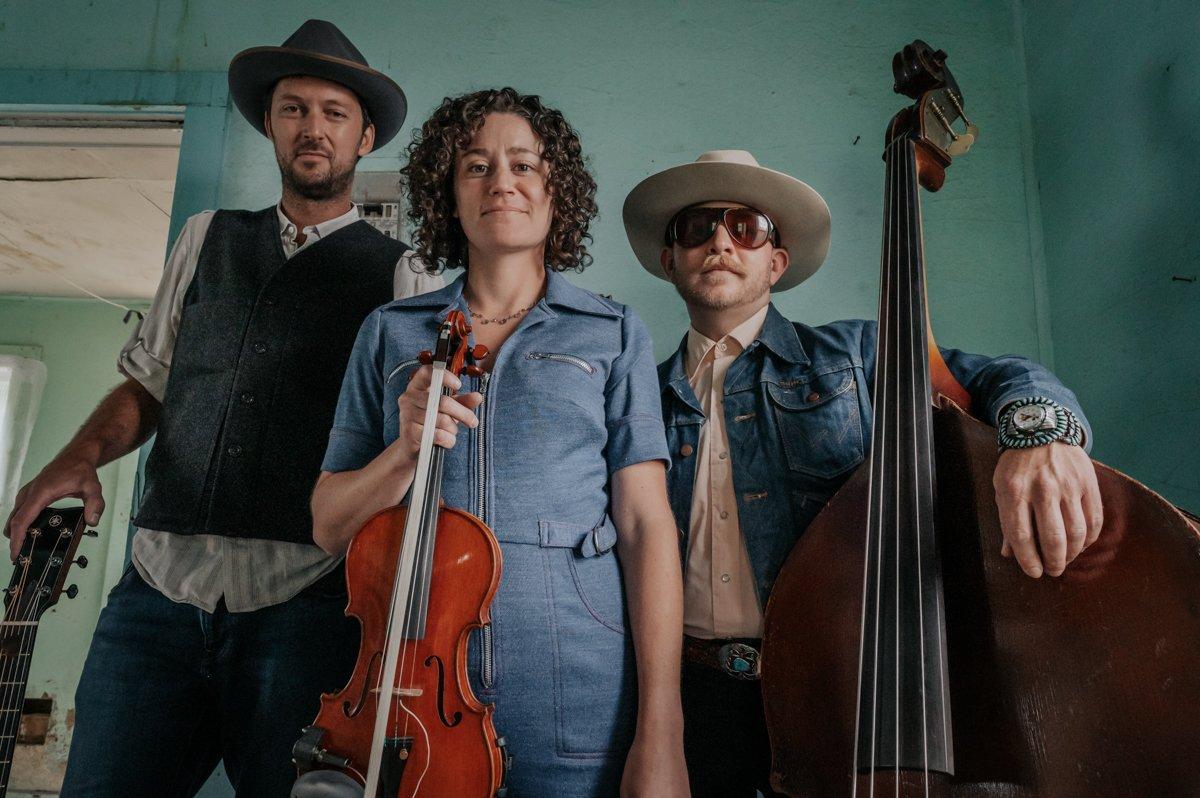 The Stillhouse Junkies
 play a delirious, head-spinning mixture of original roots, blues, funk, swing, and bluegrass music. The West Coast trio is the 2021 International Bluegrass Music Association's Momentum Band of the Year, two-time Telluride Bluegrass finalists and Greyfox showcase artists, whose genre-bending roots music is joyous, high-powered and exquisitely executed.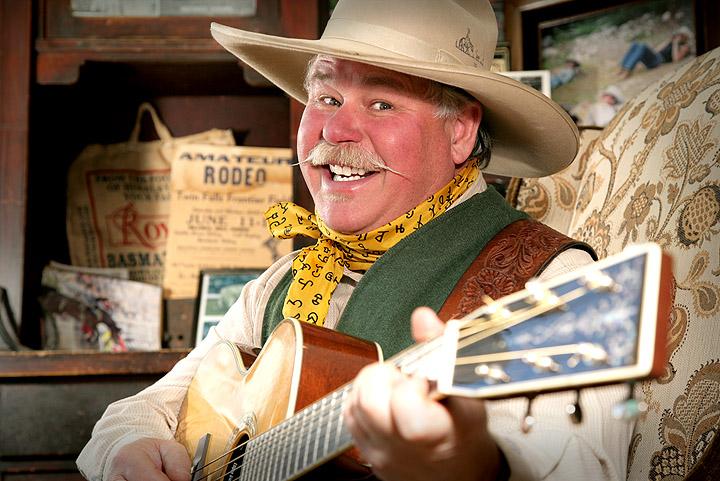 Ernie Sites
 is a yodeling cowboy, songwriter, poet, trick roper, bull rider, rodeo clown, bareback rider, team roper, calf roper and a Getaway veteran who's traveled the world over teaching people about cowboys and the West. Ernie has performed with such luminaries as Riders in the Sky, Roy Rogers & Dale Evans,
 the Sons of the Pioneers, and 
Gene Autry, and has appeared on CBS, PBS, TNN, the BBC, and Good Morning, America.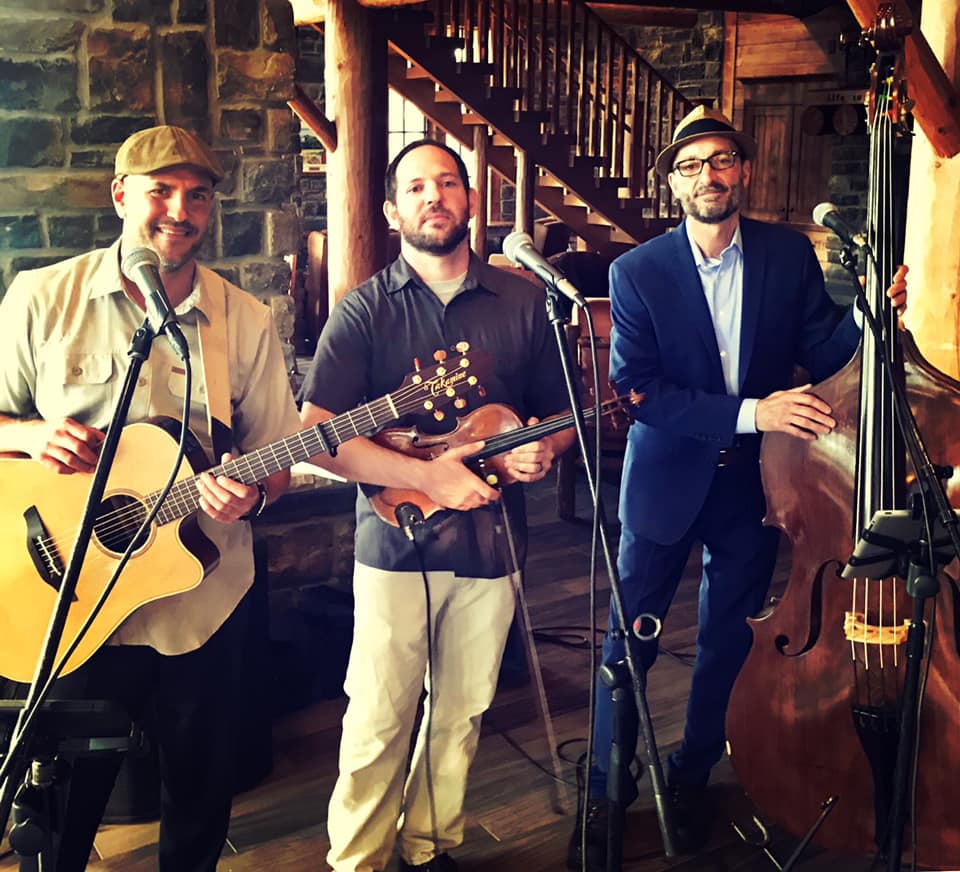 The Fermenters
offer up a heady mix of "alt" folk, blues, bluegrass, gospel, country, and eclectic originals with the stomp and holler fully-blended harmonies of the Americana musical tradition. These seasoned New Jersey pros include Chris Lelli on guitar, Seth Mandel on fiddle and mandolin, and Folk Project volunteer Larry Ghiorsi on upright bass.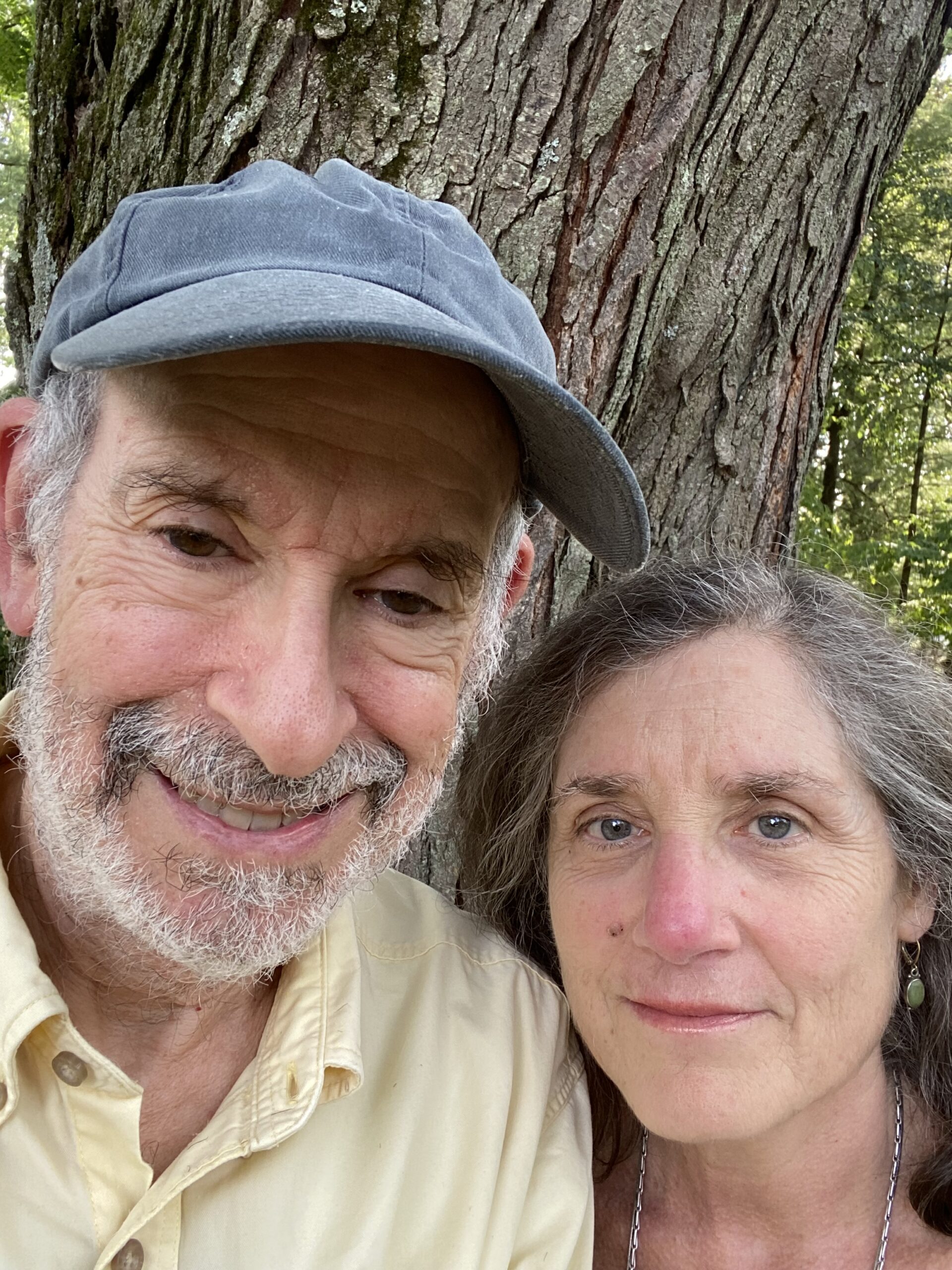 Rob & Amy
 is Rob Horowitz and Amy Kleiman, music pros who blend various roots styles, including bluegrass, swing, jazz, honky-tonk, and rock. Their credentials include TV soaps, commercials, rock videos (AC/DC), voiceovers, and appearances at Gerdes's Folk City, The Bitter End and the Jimmie Rodgers Festival, The Ritz, Max's Kansas City, CBGB, and the Turning Point with the Lisa Best Blues Band. They are also regular participants in The Folk Project's Monday night virtual song circle, Songs that Sing to Me.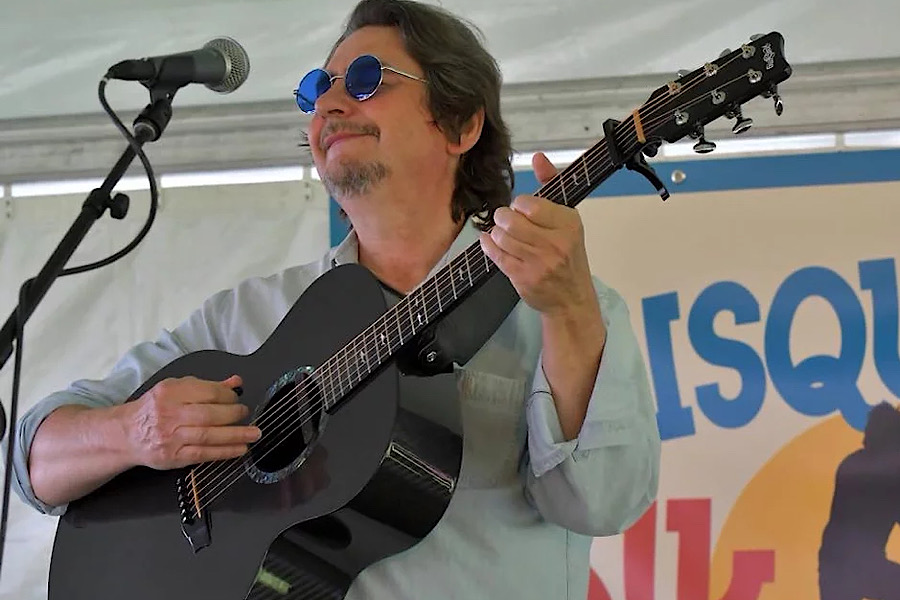 Michael Arthur
 is a contemporary singer/songwriter whose poignant songs explore the breadth and depth of the human experience. His solo acoustic guitar work is magnificent, filled with lush open guitar tunings that frame his powerful and emotive vocal performances. In addition to winning 2016's ACT Songwriters Big Shootout competition in Ashland, VA and the 2012 Silver Medal at the Susquehanna Folk Music Society Songwriting Competition, you may have caught Michael at the Kipona and Shenanigator Music Festivals, featured on Songs of Susquehanna Volume 2, and as a featured performer for Folk Project Online Streaming Tuesdays. 
Acoustic Getaway Home Edition