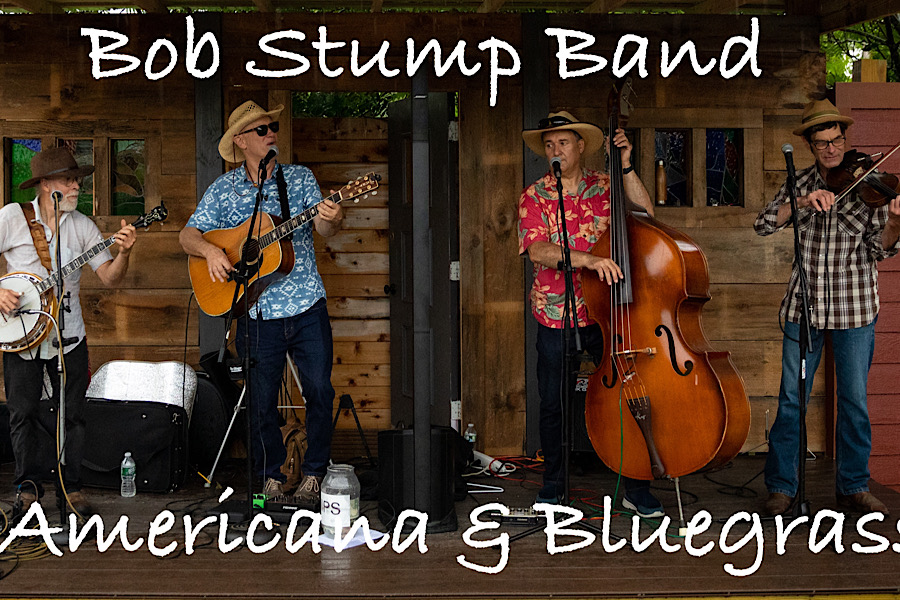 Bob Stump Band
Bob Stump Band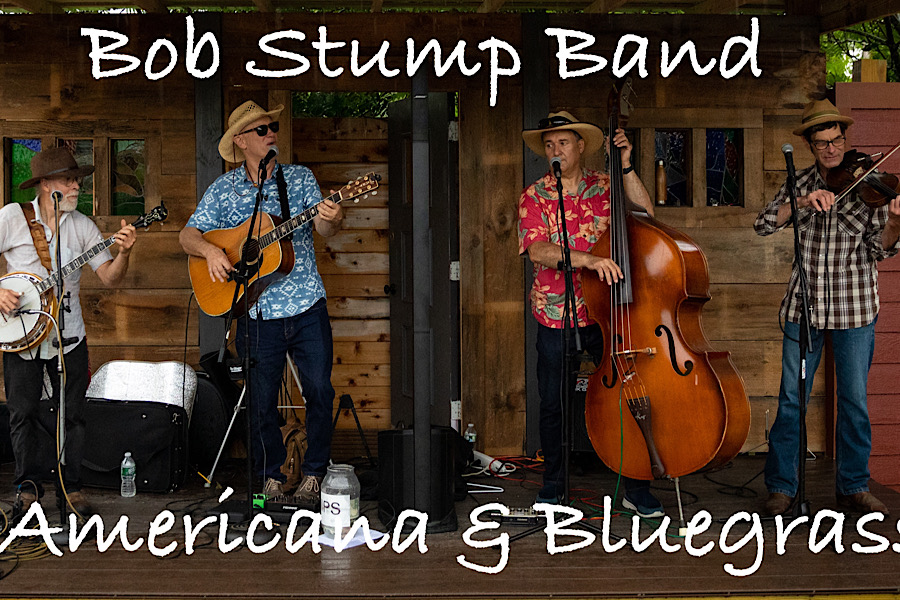 Bob Stump Band is a musical experience that highlights the blues and Appalachian folk music, moving on to cover popular bluegrass, country, jazz standards and rock music.
Bob Stump, singer songwriter on guitar, is an Americana musician raised in the suburbs of NYC. Although surrounded by urban rock music influences, Bob was always intrigued by the sounds of folk music. The artist resonated with the sounds of folk artists and began a musical career inspired by them. The troubadour performs solo and with his band at fairs, festivals, concerts , clubs and live shows. In his early days he won a few flatpick guitar contests and continues to burn it up on stage. Recently, the artist has been gaining a lot of exposure and moving up the musical ladder. His song, "The Rain Came Down," won first place for the instrumental category in The New England Song Contest. Known for his authentic sound, Bob has garnered raving reviews for his performances.
Doug Moody on fiddle. Doug is known in the region for his dynamic fiddle, harmony vocals and showmanship . Combine a formal music background , opera training and years of touring with folk rock bands and you'll uncover a hybrid sound like no other. This band shines a different light on his virtuosity and nurtures his talent. Bob and Doug met some years back at an impromptu campfire sing along and have played countless gigs since then. What the two of them have most in common is the diversity of American music. You name it, bluegrass, cowboy, country, folk, rock, jazz standards, pop and more. They continue to explore and are inspired by the audience they are performing for. They rarely bring a list, they agree "It's not about us, it's about the people who come to see us."
Tom White on banjo, mandolin and fiddle. Tom is a multi instrumentalist beyond compare . He plays every folk instrument under the sun and is well versed in old timey, Irish, Scottish and bluegrass music. As well as being in high demand as a session man, he owns and operates a recording studio. Over the years Tom has recorded many award winning artists and continues to work in his studio in Middleburg NY.
Roy Coates on the big bass. Roy has had a varied career as a professional musician since his early days. He has played tuba in Carnegie Hall, Yankee Stadium, Madison Square garden, Broadway shows and other renowned stages. Not to mention he was band conductor for the New York Guard band and has been awarded the highest meritorious achievement medal for producing and conducting a remote performance recorded during covid. It was broadcast on Memorial Day 2021 on the big telethon at Yankee Stadium. He is a music teacher in public schools and owns a guitar studio teaching private lessons to young students. Born and raised in North Carolina, his roots have always taken him back to Bluegrass.
This ensemble of virtuoso musicians has played countless shows and is always unpredictable and exciting. Although the members of this band, play with other groups, when they get together to perform they call it "the golden band"