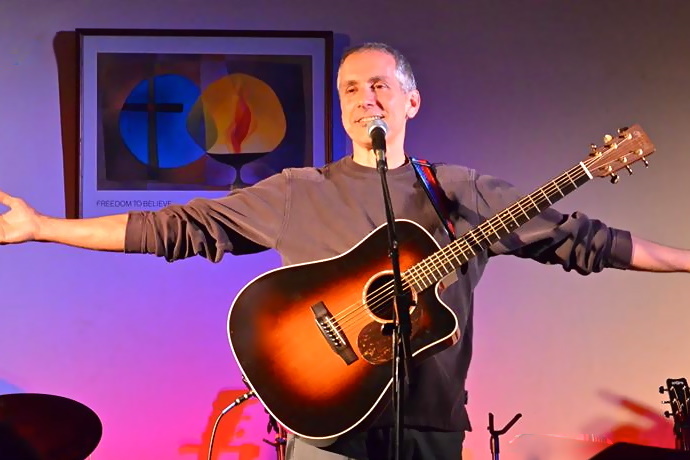 David Roth
David Roth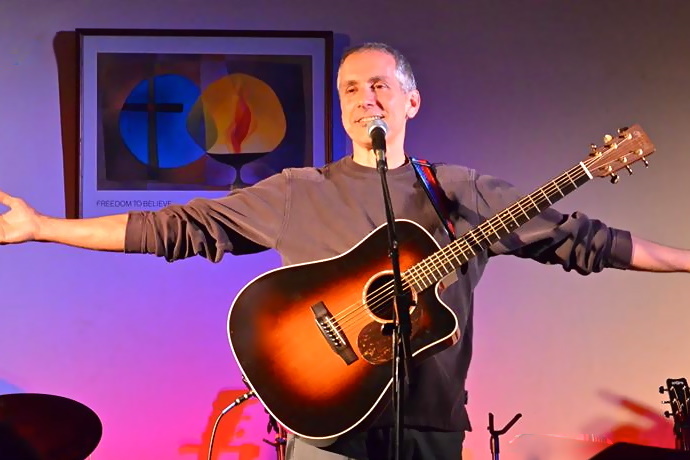 David Roth performs online for Inside the Song's Series – a concert/workshop hybrid. It's a peek into the artist's mind during the act of creation. It's an opportunity for fans and songwriters to glean a deeper understanding of the back stories, the judgements, the skill set, and the guidelines that influenced the artists we admire in making the songs we love.  Tina Ross, host of the series, and a singer-songwriter herself, will guide us all through an hour of music. You will get to ask your questions in the comment section during the show.
Inside the Song is the second Thursday of every month. Attendance is free. Free-will donations are requested and go entirely and directly to the performer.
Join us on zoom here: https://us02web.zoom.us/j/81724619741?pwd=anQ1K21rSXNqYXl2ZElmOUdqWURnUT09
David Roth strikes many chords, hearts, and minds with his unique songs, offbeat observations, moving stories, sense of the hilarious, and powerful singing and subject matter. As singer, songwriter, recording artist, keynote speaker, workshop leader, and instructor, David has earned top honors at premier songwriter competitions – Kerrville (TX) and Falcon Ridge (NY) – and taken his music, experience, and expertise to a wide variety of venues in this and other countries full-time for three decades.
David has also taught singing, songwriting, and performance at the Augusta Heritage workshops, SummerSongs (NY – where he currently serves as Executive Director), Common Ground on the Hill (MD), the Woods Dance & Music Camp (Canada), WUMB's Summer Acoustic Music Week (NH), Moab Folk Camp (UT), Rowe Center (MA), Pendle Hill (PA), Lamb's Retreat (MI), the Swannanoa Gathering (NC), the National Wellness Institute (WI), and for many other songwriting groups and associations around the country.  David is also founder/director of the Cape Cod Songwriters Retreat and creator/host of Cape Cod's "Full Moon Open Mic" which, for the past 16 years has provided a forum for musicians to connect and be heard while at the same time collecting donations ( approaching $16,000 to date) for local non-profits to help neighbors in need.
David's songs ("Rising in Love", "Earth", "Manuel Garcia", "May the Light of Love", "Nine Gold Medals", "Spacesuits", "Rocket Science", "I Stand for Love", "That Kind of Grace", and many more) have found their way to Carnegie Hall, the United Nations, several Chicken Soup for the Soul books, the Kennedy Center, Peter, Paul, & Mary's "Discovered" (Warner Brothers), the Kingston Trio's "Born at the Right Time", NASA's Goddard Space Center ("Rocket Science" went up on the Space Shuttle Atlantis's May 2009 mission to repair the Hubble Telescope), the classic folk song books "Rise Up Singing" and "Rise Again" (sequel), and 15 CDs on the Wind River and Stockfisch (Germany) labels. Winner of 5 Positive Music Awards and the 2015 Grace Note (Unity Worldwide) for Outstanding Contribution to New Thought Music, David has also been featured on many of Christine Lavin's seminal Rounder Records compilations.  The former artist-in-residence at New York's Omega Institute has also been a songwriting judge at Kerrville, Napa Valley (CA), Tumbleweed (WA), Eventide Arts (MA), the Avalon Festival (WV), the South Florida Folk Festival, and for the Rhode Island Songwriters Association (RISA).
David and his music will touch you to the very depths of your soul. He'll make you laugh and cry, inspire you to rise and fly…"
Jack Canfield, co-author, Chicken Soup for the Soul books
"David has reached our hearts. With voices like his still singing, there's a certainty that the candle will remain lit, the hope reasserted and the dream still sung…"
Peter Yarrow (Peter, Paul, & Mary)
"David is one of the finest singers and songwriters around…"
Tom Chapin
"If you're not familiar with David's work, you'll be astonished…"
Justin Kodner, Princeton Folk Music Society, NJ