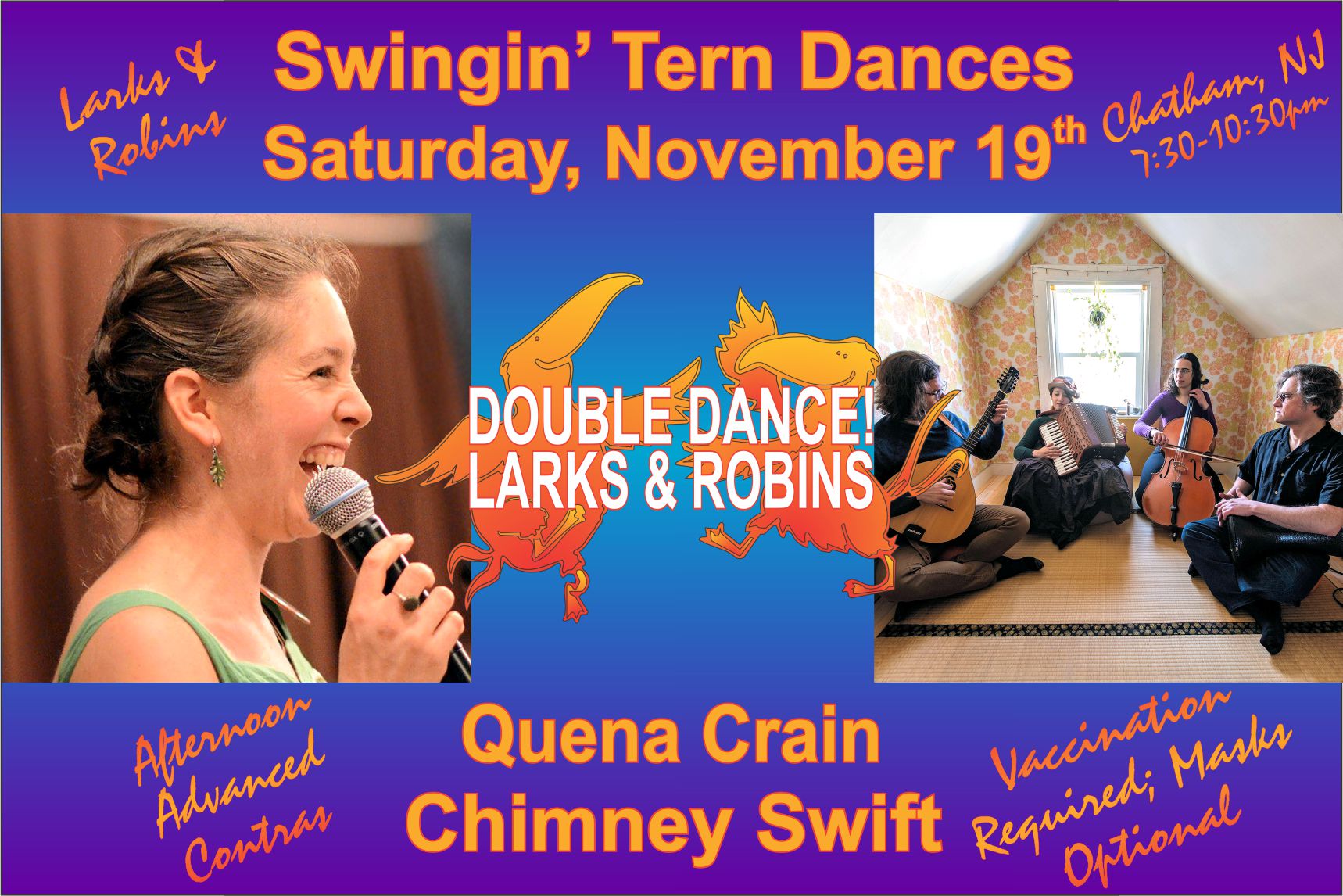 DOUBLE DANCE: Quena Crain & Chimney Swift called to Larks & Robins
Swingin' Tern presents
Quena Crain
with
Chimney Swift
This will be a DOUBLE DANCE with Afternoon Advanced Contras from 3:45-5:45pm and our regular All-Level Evening Dance from 7:30-10:30pm.  Visit one of the many restaurants within two blocks of the dance for the dinner break.
3:45 – 5:45 pm Afternoon Advanced Contras  $15 adults/$5 students
5:45 – 7:00 pm Dinner Break at the many Chatham restaurants
7:00 – 7:30 pm Beginners' Workshop
7:30 – 10:30 pm All-Level Evening Dance  $15 adults/$5 students
Both the afternoon and evening dances will be called to Larks & Robins rather than Ladies & Gents.  Larks & Robins are non-gendered terms allowing you to choose whichever dancing role you prefer.  To help you remember your location, Larks are on the Left side of the couple; Robins are on the Right side of the couple.
The Afternoon Advanced Contras session assumes you have a working knowledge of heys and all the common contra dance moves and can dance them with minimal prompting.
At Tern, birds of a feather flock together as the whooping Crain macaws Larks and Robins and Chimney Swift takes flight.  Take mynah word and come on plover; heron the dance floor, you'll be puffin.  Cormorant and raven then use your spoonbill to swallow some kiwi and magpie at the break.  Sparrow yourself from being bittern; if you don't budgie, you'll egret it.
Our mask policy is based on the current rating for Morris County from the CDC. When the county rating is at the current Yellow or Green level, masks will be optional in all dance lines.  At the Orange level, masks [N/KN-95 or surgical] are required on all dance lines.  At any dance, we may announce that masks are required in all lines. 
Proof of vaccination must be presented at the door or may be sent in advance—see full Covid protocol below.
Quena Crain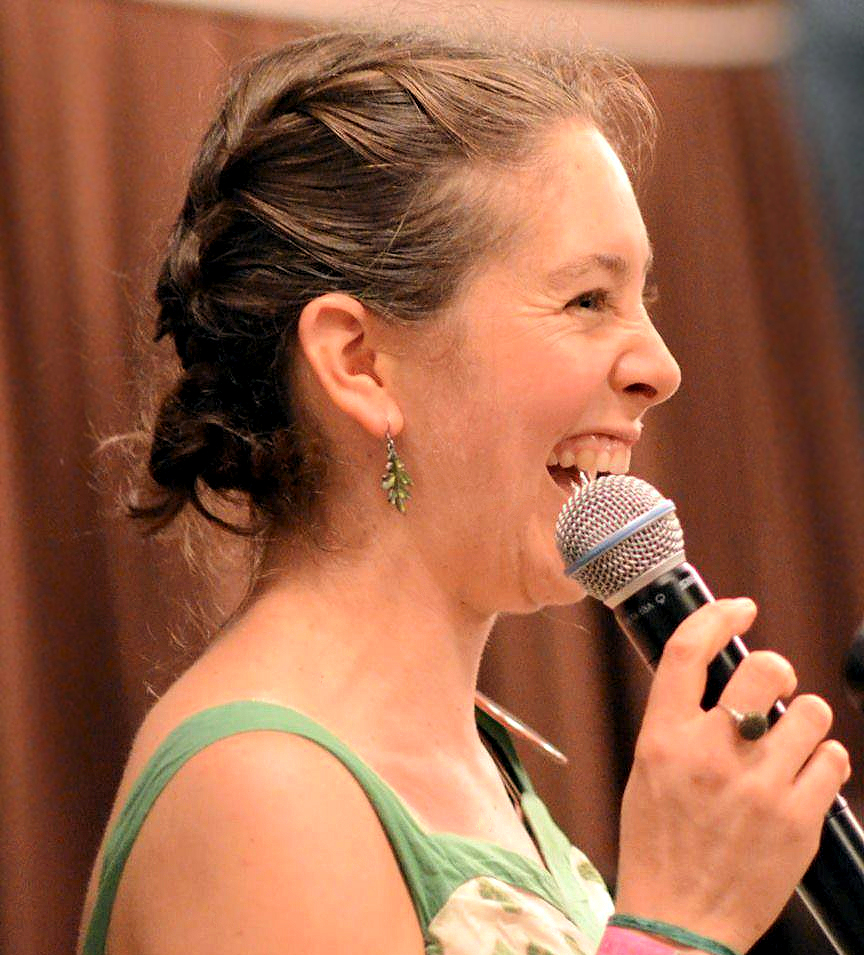 Having grown up with contra and social dancing, Quena Crain caught the dancing bug early. The joy she takes from dancing is infectious and comes through in her upbeat calling and easy teaching style. She delivers her diverse repertoire of dances in a clear, concise, warm, and personable manner.
Chimney Swift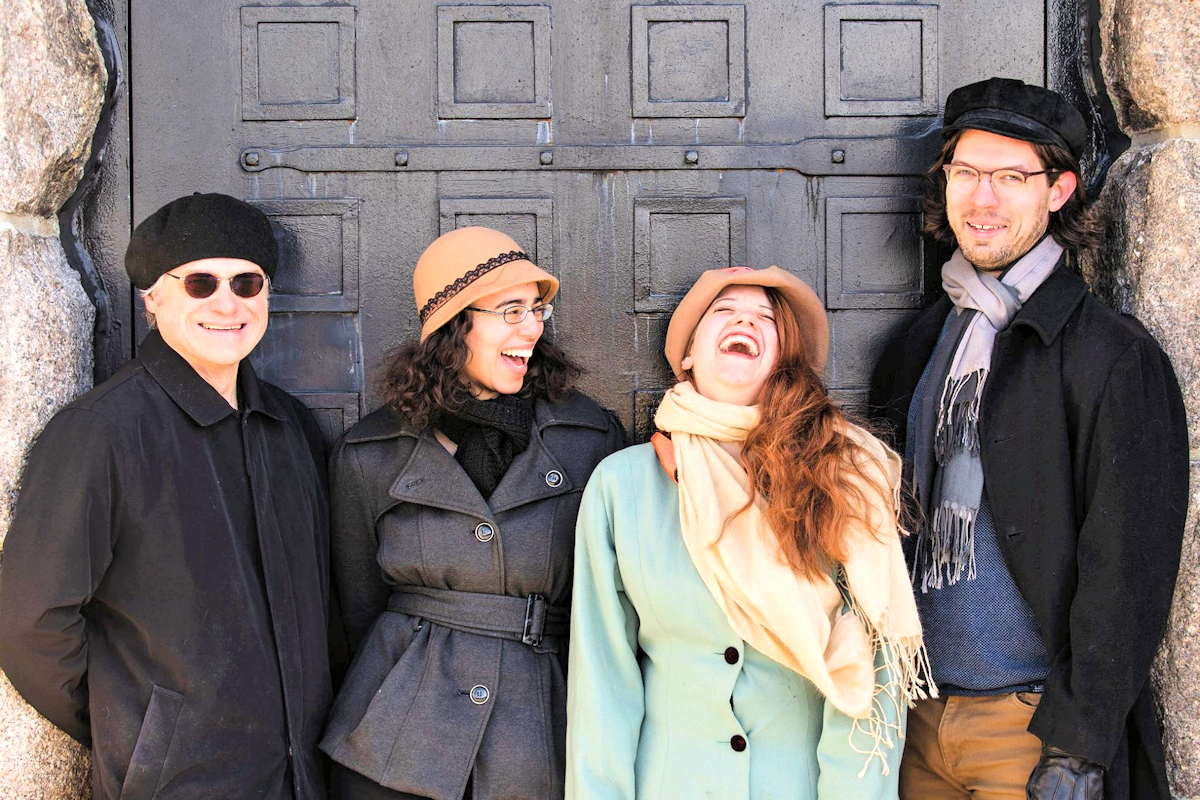 Hailing from New England, Chimney Swift hatched out of a fortuitous Youth Dance Weekend rideshare in 2015 when Cecile, a classically trained cellist, and Avalon, a lapsed pianist and self-taught accordionist, ended up in a car for three hours together. They started jamming regularly and decided to take their show on the road. With the addition of Daniel, a prog-rock and fingerstyle guitarist who had recently fallen in love with the hearty sound of the cittern, and Yaron, a versatile international music and dance leader with a well-spent youth in industrial and techno, the band has developed an exciting and unique sound as one of the few groups on the dance circuit without a fiddler.
Chimney Swift draws inspiration from Anglo-American songs and dance tunes, multiple Celtic traditions, a smattering of international styles, and whatever off-the-wall idea someone mentioned as a joke in practice the previous week.  Chimney Swift features Avalon Zoë Madonna on accordion and vocals, Daniel Raine on cittern, ukulele, guitar, and vocals, Cecile Leroy on cello, jaw harp, and vocals, and Yaron Shragai on whistles, percussion, and vocals.
COVID PROTOCOL
Proof of Covid Vaccination required—remember to bring your vaccine card to show at the ticket desk. You will be turned away if you do not have a CDC Covid Vaccination card indicating you have been fully vaccinated for more than two weeks.
Our mask policy is based on the current rating for Morris County from the CDC. When the county rating is at the current Yellow or Green Level, Masks will be optional in all dance lines. The current level for Morris County will be posted by 8pm on the Thursday before each dance. If the county level is raised to Orange/High, Masks will be required in all dance lines [N-95 equivalent or surgical masks]. We will have extra masks at the ticket desk.
We are maintaining a roster of dancers that have been vaccinated to speed admission at future dances. If you are not already on our vaccine list, you may expedite entry by sending an image of your Covid Vaccination card in advance to Doug at dheacock at aol dot com and we will have your name on the roster.  We are asking for email addresses should there be a need to contact you about an issue at the dance.
Please arrive early. We ask for your patience at check-in.
We will have some individually wrapped snacks for the break. You are welcome to bring your own snacks—if you plan to share, please make sure they are individually wrapped.
Please bring your own water bottle with your name on it. We will not be providing a punch bowl.
Hourly Schedule
Dance Schedule
7:00 PM

-

7:30 PM

Beginner's Workshop

Learn the basics or help the newcomers.
7:30 PM

-

10:30 PM

Dance

The main event.