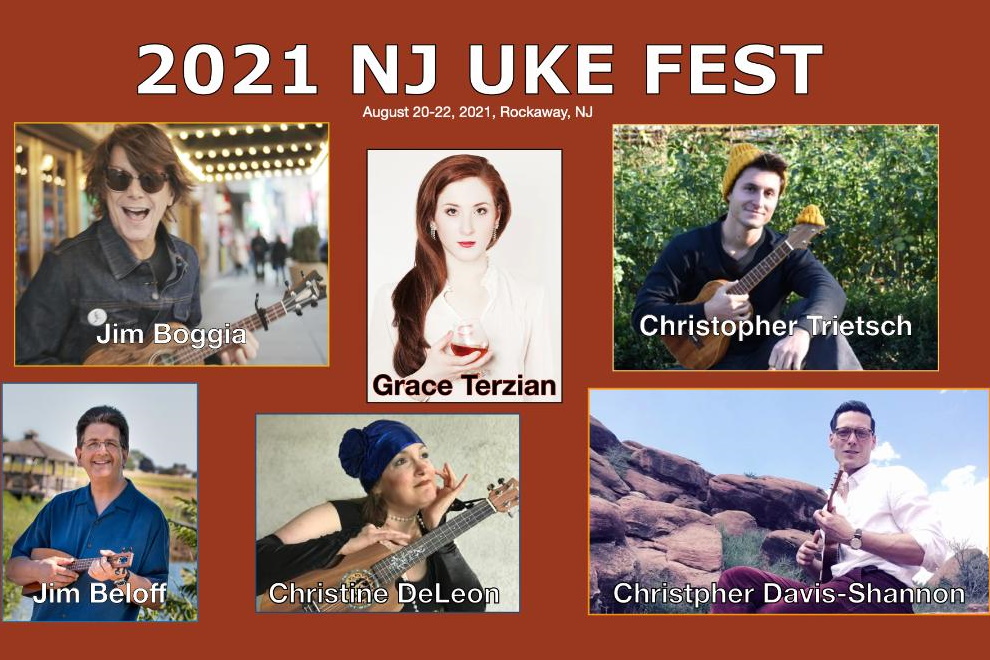 NJ Uke Fest 2021
The Folk Project presents
the 2021 NJ Uke Fest
with
Concerts, Workshops and the Sunday Sing Along/Play Along
On Friday through Sunday, August 20, 21 & 22, The Folk Project's NJ Uke Fest will present workshops, concerts, and sing-alongs. Tickets are $85 for the entire weekend, and attendance is limited to 50 vaccinated guests. Jim Boggia, Christine DeLeon, Christopher Trietsch, Jim Beloff, Christopher Davis-Shannon, and Gracie Terzian are featured.  On Sunday we host our traditional outdoor sing-along/play-along.
FRIDAY
Friday evening opens with a Welcome Play-Along at 6:30, followed immediately by a concert at 7:30 featuring Jim Boggia and Christine DeLeon
Jim Boggia will present his Off-Broadway hit, Bruce Off Broadway, a collection of Bruce Springsteen songs backed by uke. He's an uncompromising devotiee of emotionally direct songcraft and a mean, clean and fantastic artist on the "tiny fretboard." Boggia performs with New York City-based Beatles tribute band, the Fab Faux, as well as Mad Dogs & Dominos, an 18-piece rock collective.
Christine DeLeon will open with a set featuring her gorgeous voice, splendid uke playing, and a mix of originals, popular tunes, and gems from the 1920s. She's an astounding vocalist, skillful lyricist, and consummate musical communicator. Christine is an award-winning performer, a Folk Project favorite and has won over audiences throughout New Jersey.
After the concert, we will jam until late.
SATURDAY
Saturday starts at noon with a Sing Along/Play Along.  At 1:00 PM we will introduce you to our artists and explain the workshops available.  From 1:30 pm through 5:30 pm we offer a choice of three workshops every hour. Then we break for dinner (either off-premises or for $15 on-premises) with a Guest Showcase running concurrently. At 7:15, there will be a sing-along tribute to the victims and survivors of the pandemic, followed at 7:30 by the weekend's climactic evening concert, showcasing our amazing and talented instructor/performers, Christopher Trietsch, Jim Beloff, Christopher Davis-Shannon, and Gracie Terzian.
Christopher Trietsch is a luthier, sophisticated arranger, complex finger-picking artist, and Ukulele Album of the Year nominee. Christopher records by layering the sounds of his own handmade ukuleles accompanied by piano, bass, and guitar. He has been nominated for Ukulele Album of the Year by the Hawai'i Academy of Recording Arts (HARA) for the prestigious Na Hoku Hanohano award. Christopher builds ukuleles that are both a joy to play and hold, focussing on splendidly-crafted, custom instruments.
Jim Beloff is an author, composer, luthier, and world-touring ukulelist. This international ambassador of the uke is author of The Ukulele – A Visual History, producer of the CD compilation Legends of Ukulele, and has made three how-to-play DVDs for the Homespun instruction series. Jim, an active songwriter and recording artist, has composed and performed with the Choate School orchestra in Germany and Austria, the Michigan Philharmonic, and the Wallingford (CT) Symphony Orchestra.
Christopher Davis-Shannon is an accomplished multi-Instrumentalist, fabulous songwriter and intricate jazz arranger on our favorite Hawaiian music maker. He brings an honest simplicity and fluency to arrangements that transport audiences back to the jazz clubs and speakeasies of the early 20th century. Chris forges breathtaking new life into old classics, weaving together a sound enjoyed by both young and old.
Gracie Terzian is an exquisite singer, delicate songwriter, New York City actor, and stands out as an accomplished player of the luscious-sounding harp ukulele.  Her first EP, Saints and Poets, debuted at #23 on the Billboard jazz charts and quickly became the #3 jazz album on iTunes. Noted jazz historian Terry Teachout, author of Pops: A Life of Louis Armstrong and Duke: A Life of Duke Ellington, calls Terzian a "deep-dyed romantic who tells her tales of modern love with quiet delicacy and an inborn musicality that's impossible to overlook."
SUNDAY
Sunday brings NJ Uke Fest's traditional sing-along/play-along on the Green from 10:30 AM to 2:30 PM. There are lots of options nearby for breakfast before, or for lunch during and after.
the 2021 NJ Uke Fest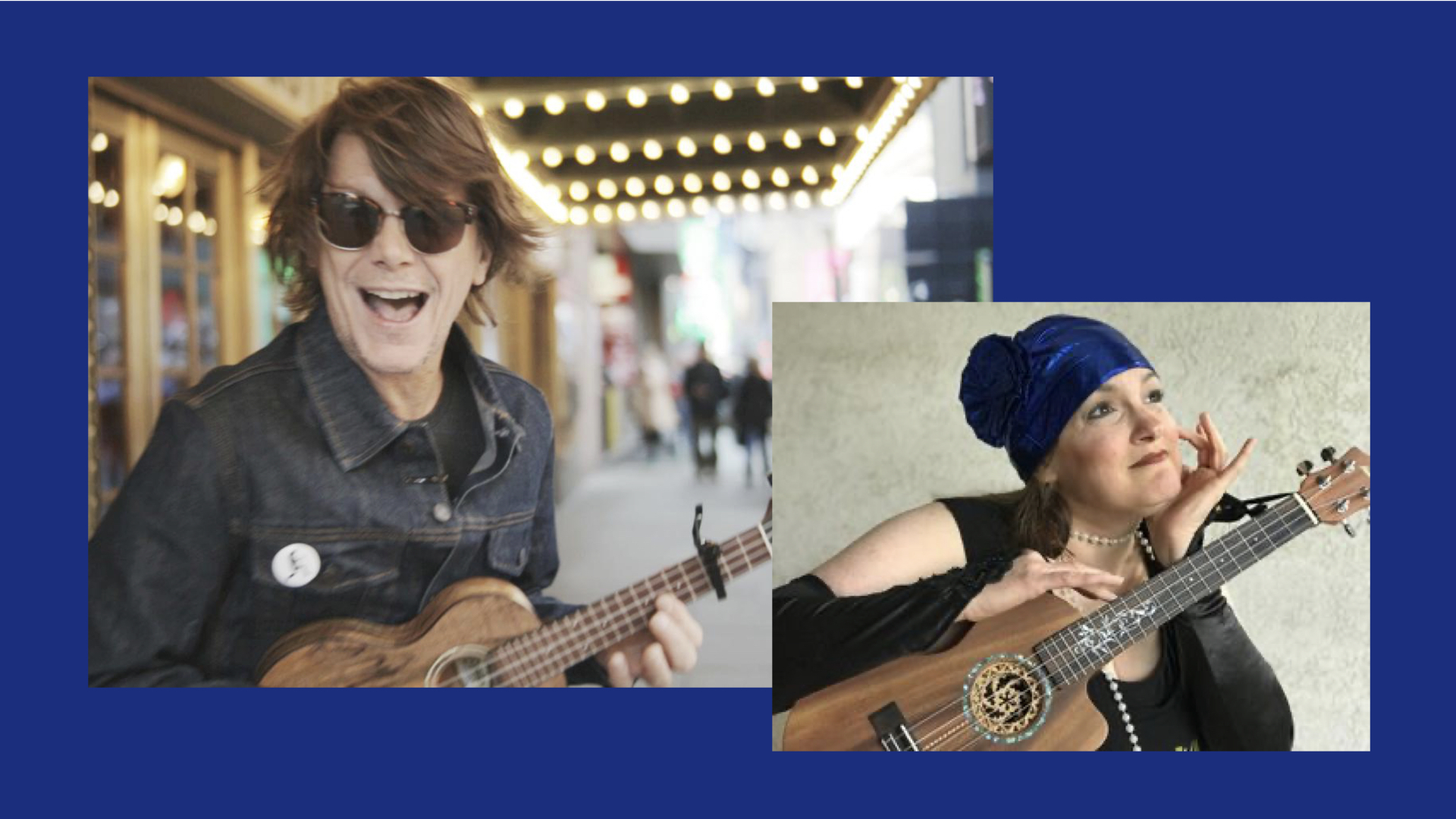 Concerts, Workshops and the Sunday Sing Along/Play Along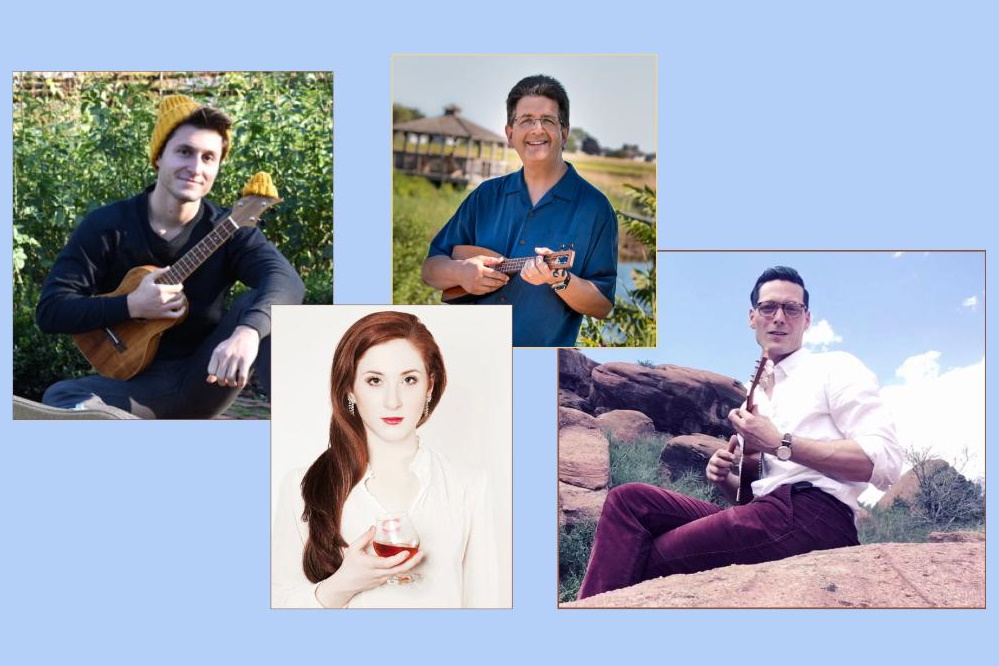 Hourly Schedule
Friday, Aug. 20
6:30 PM

-

7:30 PM

Welcome Play-Along
7:30 PM

-

10:00 PM

Friday Evening Concert

Live concert with Jim Boggia and Christine DeLeon
10:00 PM

-

???

The Never-Ending Uke Jam
Saturday, August 21
12:00 noon

-

1:00 PM

Welcome Play-Along
1:00 PM

-

1:30 PM

Intro to Artists and Workshops
1:30 PM

-

2:30 PM

Beginner Workshop 1

Beginner's Masterclass (One-on-one personal instruction)
1:30 PM

-

3:30 PM

Workshop 1

Right Hand Technique
1:30 PM

-

2:30 PM

Advanced Workshop 1

"In My Life" Advanced Class Part 1 (Learn a complex arrangement, while exploring up the neck and fingerpicking)
2:30 PM

-

3:30 PM

Beginner Workshop 2

Beginner's Masterclass (One-on-one personal instruction)
2:30 PM

-

3:30 PM

Workshop 2A

Jazzing up the Uke (Sophisticated sounds with simpler fingering)
2:30 PM

-

3:30 PM

Workshop 2B

What's a Chord? (Understand how to play a million chords or less)
3:30 PM

-

4:30 PM

Workshop 3A

Intro to Swing (Enter as a square. Leave cool, Man, cool)
3:30 PM

-

4:30 PM

Workshop 3B

Open Jam
3:30 PM

-

4:30 PM

Advanced Workshop 3

"In My Life" Advanced Class Part 2 (Learn a complex arrangement, while exploring up the neck and fingerpicking)
4:30 PM

-

5:30 PM

Workshop 4A

Any Level Master Class (One-on-One Personal Instruction)
4:30 PM

-

5:30 PM

Workshop 4B

Beatles Play-Along
4:30 PM

-

5:30 PM

Workshop 4C

Chords - The Magic Circle of 5th
5:30 PM

-

7:15 PM

Supper & Guest Showcase
7:15 PM

-

7:30 PM

Memorial Group Song for COVID victims
7:30 PM

-

10:00 PM

Saturday Evening Concert

Concert featuring Jim Beloff, Christopher Davis-Shannon, Grace Terzian, and Christoper Trietsch
10:00 PM

-

???

Music by Everyone for Everyone
Sunday, August 22
10:30 AM

-

2:30 PM

Our traditional play-along on The Green