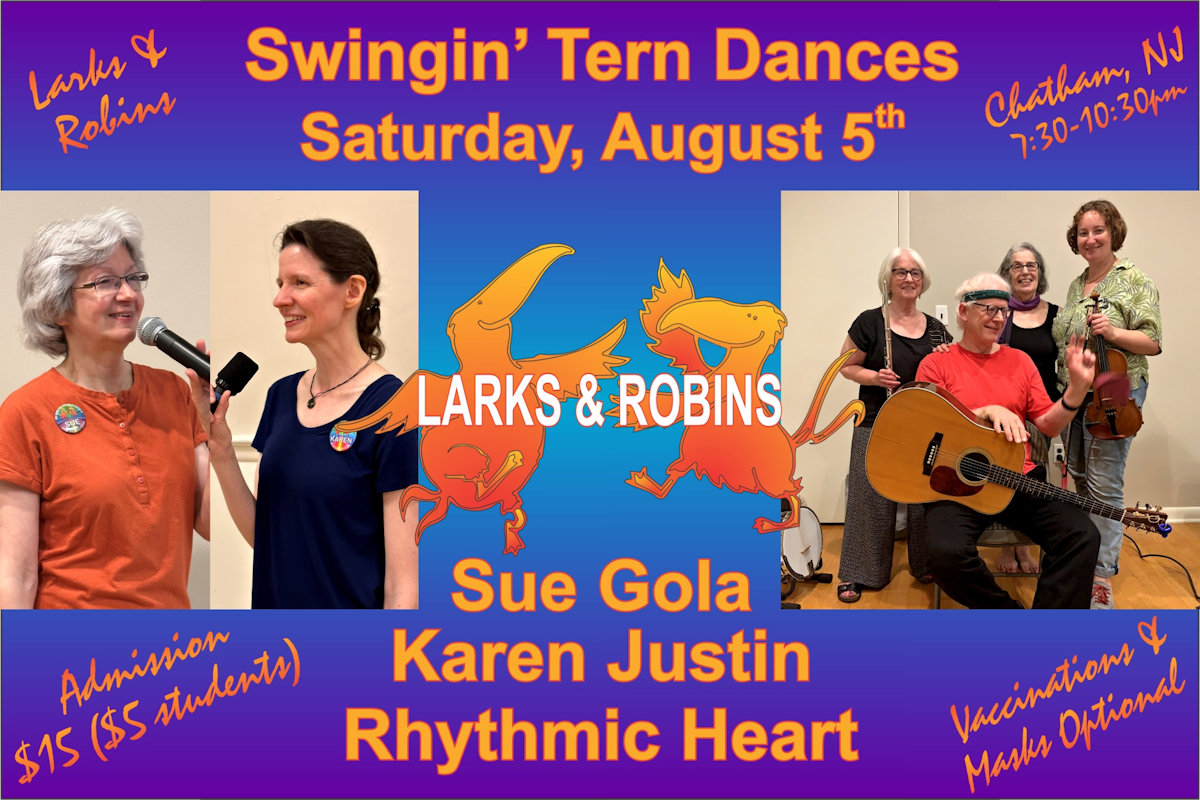 Sue Gola and Karen Justin & Rhythmic Heart
Swingin' Tern presents
Sue Gola and Karen Justin
with
Rhythmic Heart
I got rhythm
I got music
I got contras
Who could ask for anything more?
Sue and Karen,
And Rhythmic Heart
Tunes for dancin'
Who could ask for anything more?
Ol' Man Trouble
I don't mind him
You won't find him
On our floor.
I got dancin'
I got sweet swings
I got good friends
How could Tern do anything more?
This dance will be called to the gender-neutral terms Larks & Robins instead of the traditional Ladies & Gents.  Larks are on the Left of the couple.  Robins are on the Right of the couple.
Masks and vaccinations are no longer required since Morris County remains at the Green/Low Covid case level.

Sue Gola and Karen Justin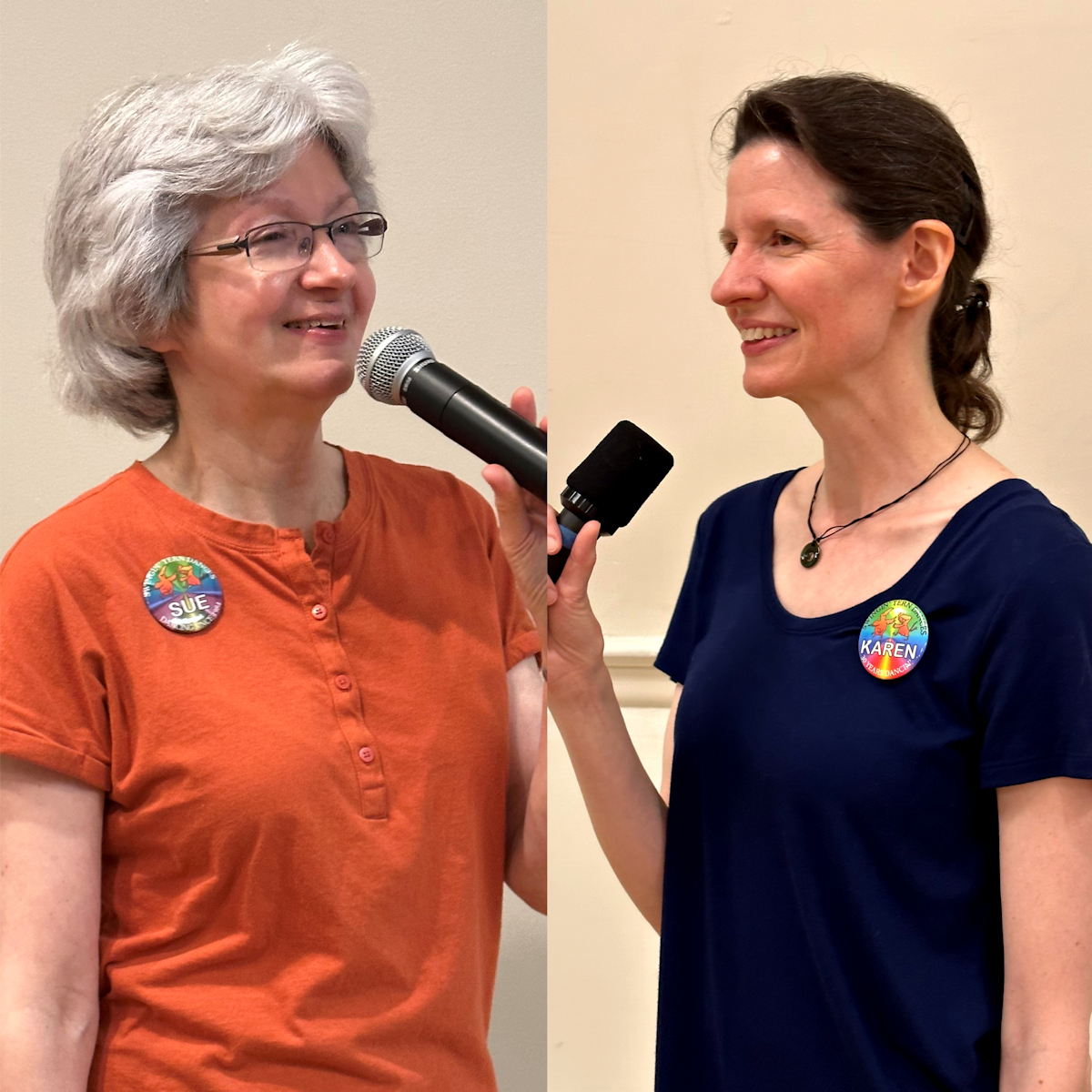 A long-time contra dancer, Sue Gola was drawn into calling contras in 2014. Since then, she has called at dances both large and small throughout the Northeast. Sue gives instructions concisely and clearly, and has a friendly way about her that makes dancers feel welcome.
New to the caller's mike, Karen Justin has wowed the dancers so far with her engaging personality, calm teaching, and choice of dances.
Rhythmic Heart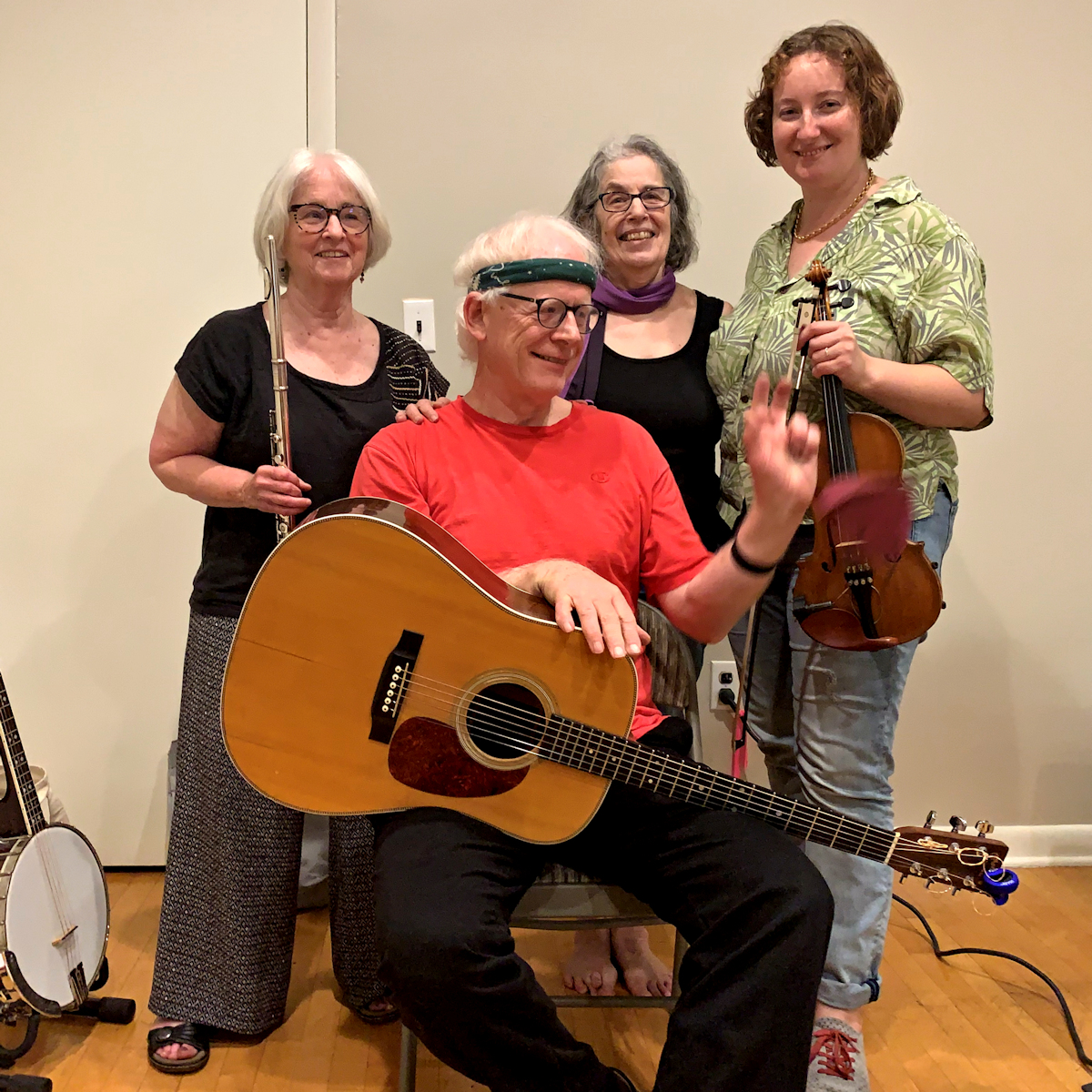 Not one to skip a beat, Rhythmic Heart mixes old-timey, jazz, Celtic, and New England traditional tunes with occasional notes of new age and rock.  The four chambers of Rhythmic Heart are Anna Bosnick on fiddle, Norma Castle on flute and percussion, Doug Healy on guitar, banjo, and djembe, and Robin Russell on keyboard.
COVID PROTOCOL
Masks and proof of vaccination are no longer required as Morris County has remained at the Green/Low case level for several months.
We once again welcome contributions of home-baked [or not] goodies to share at the break.
Please bring your own water bottle with your name on it. Water bottles may be filled at the kitchen sink.
Hourly Schedule
Dance Schedule
7:00 PM

-

7:30 PM

Beginner's Workshop

Learn the basics or help the newcomers.
7:30 PM

-

10:30 PM

Dance

The main event.